Released September 16th 2014
Companion novel to "Unbreakable" & "Undone" and is the final book in the Unbreakable series -- This is Lindsay and Matt's story.
Lindsay Christianson seemingly has it all—the perfect career, the perfect boyfriend, and the best-laid plans for a perfect life—until one phone call changes everything.
With a moments notice, Lindsay must choose between her perfect life and her professional dreams. The choice momentarily seems clear when the opportunity to propel her career abruptly sends her across the country, leaving everything she loves behind in North Carolina.
Navigating a new city with a broken heart and a job where her colleagues will do anything to sabotage her success, the pressure quickly becomes too great. When old habits resurface, Lindsay finds herself chasing demons she thought were long since buried.
With pain and destruction left in her wake, will Lindsay find a way to erase the damage she's done, or will her sins remain unforgiven?
**This book is a Contemporary Romance and contains mature subject matter. It is not intended for those under 17 years of age.**
When I started Unforgiven I went in with very open eyes knowing that Lindsay had some issues to work out and I assumed she'd make some bonehead mistakes. She totally does but I wasn't as miffed as I thought I'd be about her screw ups. The stress of her job and her hateful coworker brings on old stresses about her body image and it's revealed Lindsay struggled with Anorexia in college. Along with her nightly wine habit she's hooked on prescription medication and she slowly self destructs not just at work but in her private life. This is one complicated woman and with all her issues I found myself actually feeling sorry for her. She's in a new town, she's just broken up with the love of her life and she's lonely. Making a few friends at work helps temper the loneliness and her next door neighbor Jonah distracts from the sadness a little bit but her emotional self destruction couldn't be avoided. Lindsay getting closer to any man who wasn't Matt was something I expected to be pissy about but for some reason I didn't get as upset. Maybe it was because Jonah was a nice guy or he wasn't seen as much of a threat but I was pretty emotionally level about the whole thing. Normally I would be needing a Valium to calm my angst addled nerves. Hitting rock bottom was hard to watch but I was pleased with how she handled her recovery, I actually felt her struggle and healing so it was nice to be that connected with her.
Matt's part in the story isn't as detailed as Lindsay's because she has more to go through than Matt but we do get a look inside his world throughout her breakdown. Not only is he dealing with her being gone but he's struggling with the guilt of not supporting her dream and feeling like he's the reason she left. This was something I hated seeing because I love Matt to pieces. He's just such a great guy, not just to Lindsay but to Landon. He's an amazing cop, a great friend and a terrific boyfriend so it's not hard to see why he was a favorite of mine. I love a good man and the uniform don't hurt none either! Of course he has moments like every man where he can be a total prick but for the most part Matt was justified in his reactions to Lindsay's mistakes.
With the built in conflict between Lindsay and Matt after she moves away and they break up, there were a few parts of the story I didn't think really feel fit the flow of the story and ultimately didn't work for me. One of those aspects being Jonah's part in the story. Yes he was her neighbor and ultimately befriends her but he never felt like a part of the actual story. For me he felt as if he was just a filler to add unnecessary drama into Lindsay's already chaotic life. I liked him as a character and felt as if I could see myself enjoying a story about him but just not in the context of this story. Aside form the fact that his intimate encounter with Lindsay walked the line of "consensual" he wasn't such a bad guy.
The main thing I had a problem with is when Jonah brings an unsavory drug dealer into Lindsay's life. This didn't feel genuine to me at all. Jonah says several times that this guy is a friend of a friend and doesn't even like him, but I couldn't figure out why he kept letting him come hang out. It didn't make sense for me. Especially when this guy makes a very clear statement to Lindsay about owing a debt of services rendered in exchange for more drugs. Why didn't this mesh for me? Because Jonah was completely vehement about not doing drugs and hating all aspects of the drug world....yet he continually let a DRUG DEALER into his home? The most frustrating thing regarding these two guys is that both story-lines were wrapped up too neatly to feel like their ARC in the book was even needed. The story, I felt, was supposed to be about Matt and Lindsay but the focus was mainly on Jonah and Lindsay with an abrupt ending to their entire relationship. I really felt like this one should have been a novella and just cut out Jonah's part along with Senior Happy Pills. I just wasn't feeling it.
Even though there were parts of the story I didn't feel were necessary to the overall function of the story, I loved Lindsay and Matt's romance and how they struggled to find their way back to each other. Both characters had to put aside their feelings for each other and heal separately and then together. I loved watching all the secondary characters again and how they rallied around Lindsay to help her get better. Landon and Reagan had a very sweet part in the book that will melt hearts seeing this series' bad boy turned into mush pile over some big brown eyes and tiny hands. I wanted to curl into a ball and cry forever seeing him get his happy ending. Secondary characters usually jump out at me when I least expect it to and one particular flamboyant character, Mike, really made me fall in love. Mike worked at the news station Lindsay transferred to and was ultimately her first friend in town and every scene he was in made me love him more. He was just a great side kick full of wisdom and depth. This has been a tough road for all the characters involved and I would be lying if I said I wasn't ready to watch these damn people ride off into the sunset ASAP.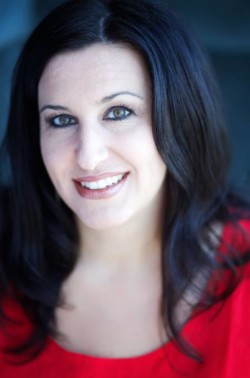 Rebecca Shea is the USA Today Bestselling author of Unbreakable. She lives in Phoenix, Arizona with her family and her beagle, Miles. From the time Rebecca could read she has had a passion for books. Rebecca spends her days working full-time and her nights writing, bringing stories to life. Born and raised in Minnesota, Rebecca moved to Arizona in 1999 to escape the bitter winters. When not working or writing, she can be found on the sidelines of her sons football games, or watching her daughter at ballet class. Rebecca is fueled by insane amounts of coffee, margaritas, Laffy Taffy (except the banana ones), and happily ever afters.